Our LA Reporters attended a very special Star Trek: The Motion Picture (The Director's Edition) DVD premiere event in LA! You can check out our full review of the DVD by clicking here and if by some chance you have not already ordered the DVD (you would be crazy not to), you can by clicking here.
The DVD release of the first theatrically produced Star Trek film adventure was celebrated (with cast and crew) on November 1, 2001, on the Paramount lot. Star Trek: The Motion Picture was the first big-screen Star Trek story produced, in 1979. It was also the first Paramount title released onto home video way back in 1983. It now holds the additional honor, fittingly, of being the first Star Trek feature to be released having been restored and visually "completed" after 22 years of its director feeling slighted by unrealized special effects due to an incredibly limited post-production schedule.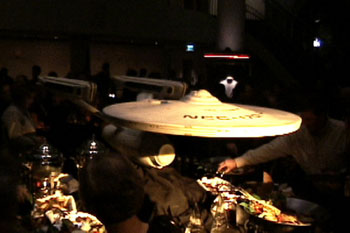 Enterprise Model
Photo by Will Maier - (C) 2001 Dvdcc.Com.

Present from the original cast were William Shatner and Leonard Nimoy, who arrived together accompanying their wives, as well as George Takei and Walter Koenig.
Robert Wise, the film's director, was definitely the man of honor at the event. He spoke to a crowded auditorium following a brief reception on the grounds of the Paramount Studios lot. Thanking key personnel responsible for the restoration as well the original production, Mr. Wise read from his prepared notes that this film was now "finally something I can be proud of."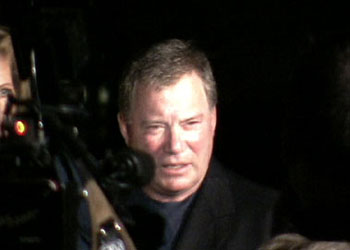 William Shatner
Photo by Will Maier - (C) 2001 Dvdcc.Com.

A unique aspect of the event was the screening of the movie in a huge auditorium - but on DVD. You could not tell the difference from a projected film: grain, color quality, spectacular sound - it all seemed to be there! Expect the future of movie distribution to involve fewer back-breaking heavy cases of 35mm film.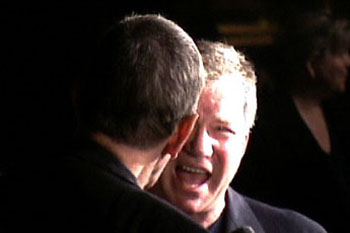 Leonard Nimoy & William Shatner
Photo by Will Maier - (C) 2001 Dvdcc.Com.

To give you an idea of what kind of crowd was there, most of the new FX shots were applauded along with the names of each of the cast members as they appeared in the opening titles. The late DeForest Kelley received a huge round of applause upon his first appearance onscreen.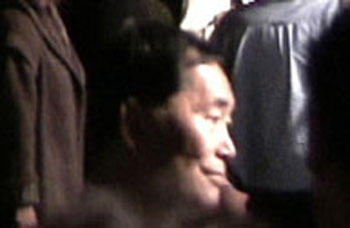 George Takei
Photo by Will Maier - (C) 2001 Dvdcc.Com.

The painstakingly precise measures taken to ensure seamless melding of the new CG elements with the 1979 film techniques are outlined in the current issue of Star Trek Magazine, which was provided free to each attendee. The issue is dedicated to every aspect of ST:TMP and served as a very shiny, collectible press release.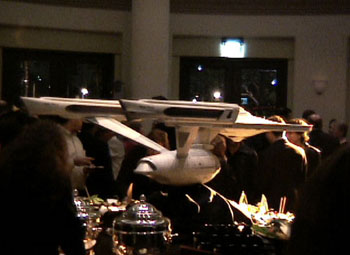 Enterprise Model
Photo by Will Maier - (C) 2001 Dvdcc.Com.

All in all, a very wonderful event. Thanks go out to Paramount for inviting us.

To see additional pictures of this event, please click here.