STAR WARS: EPISODE I - THE PHANTOM MENACE
Reviewed September 11th, 2001 by John Randall
"The ability to speak does not make you intelligent... "

The wait is finally over (well October 16th to be exact)!

DVD enthusiasts and Star Wars fans from all over the World eagerly awaited some sign that the Star Wars saga would indeed hit the DVD platform. Now, Episode 1 marks the first time any Star Wars film (legally) can be viewed in this most impressive way.

The new Episode 1 DVD is a two-disc set that should make any fan pretty happy.

The storyline takes place many years before Star Wars: A New Hope. We take a look at the early days of the Senate and the evil Senator Palpatine, long before he ever became the Emperor. We also see a younger Yoda, more Jedi Knights and a lot of the back-story that made the Star Wars saga so popular.

The Trade Federation attempts to invade the small planet of Naboo. Two Jedi Knights (Qui-Gon Jinn and a younger Obi-Wan Kenobi) are sent off to Naboo to try and make the Federation stop their blockade of the planet. That is where everything goes wrong. It is learned that a new dark enemy will stop at nothing to get what he wants.

The two Jedi must try to put everything back in its place and help to protect Queen Amidala of Naboo. Along the journey, many new characters are met like Jar Jar Binks (not a fan favorite by any means), Darth Maul (a strange dark Jedi) and little Anakin Skywalker who seems to possess great inner powers. And do not forget we are introduced to old characters like C3PO and R2D2.

I have to say that these discs are pretty swell. LucasFilm really did do a great job.

First thing that has to be mentioned is that this is actually more of a DIRECTOR'S CUT of the film than any version that has been released to date. The film itself on disc 1 contains a few shots not in the original version! The pod race sequence has been extended using some of the deleted sequence that can be seen on disc 2, and a whole "taxi sequence" on Coruscant has been reincorporated back into the film (you can seen this on disc 2 as well).

Now, with the big news out of the way, here's what fans have been waiting for:


DISC ONE:

Disc 1 contains the movie and that is about it.

The video is presented in 2.35:1 anamorphic widescreen and is very good. I did notice some soft spots and too much edge enhancement going on in a few scenes and that is the only reason the image did not get a perfect score (like that will stop you from picking this disc up).

The audio is presented in Dolby Digital 5.1 Surround EX. If you never thought about investing in an EX system – now would be the perfect time. The addition of the back rear channel puts you right there in the action even more. Do not worry if you do not have an EX system, because a regular 5.1 setup will keep you rocking as well. The surrounds and LFE channels are just plain awesome. An English 2.0 and Spanish 2.0 soundtrack is also available. Subtitles are available in English only.

Trying to explain the menus is a bit tricky in regards to the first disc. One of three randomly chosen "themes" will appear each time you boot the disc up in your player (there is a secret way to pick which one you see though). It could be Tatooine, Naboo or Coruscant. All the menus rock w/ animation and there are many neat random time-outs as well.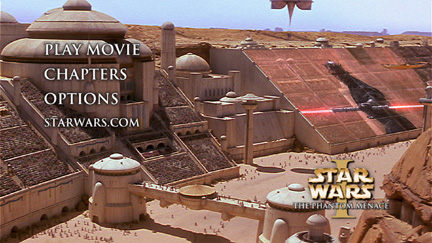 © Lucasfilm Ltd. & TM. All Rights Reserved.




© Lucasfilm Ltd. & TM. All Rights Reserved.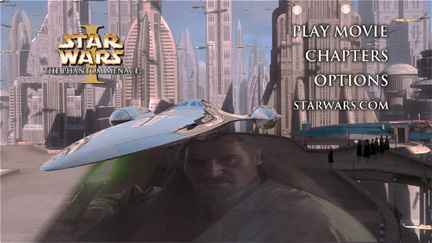 © Lucasfilm Ltd. & TM. All Rights Reserved.

There are a total of 50 chapter stops for the movie on the disc.

As a special easter egg, push stop on your remote and go to title 3 on the disc. You will be able to watch the DVD credits which include some VERY funny outtakes from the film. You do not want to miss this.


DISC 2

The second disc is just full of stuff you need to watch. It really does include stuff you would want to watch rather than a lot of useless crap that are on many DVDs.

The theme of the second disc is based on the cargo hold of the Queen's ship.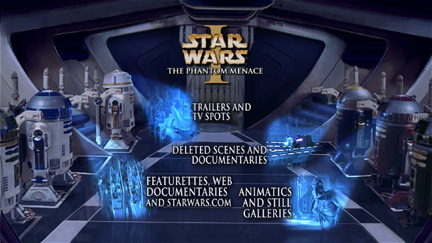 © Lucasfilm Ltd. & TM. All Rights Reserved.

First up are the trailers and TV spots (including the one love, one hope, etc ones).

The deleted scenes page has a documentary on the deleted scenes (which was very entertaining) with all seven deleted scenes (which were more like extended sequences in reality). You can watch the documentary by itself or choose which deleted scenes you wanted to watch. On this page is also the hour long documentary called "The Beginning" which is most awesome. This documentary was compiled from over 600 hours of footage and has no narrator. This documentary should win some awards in my book. You might just be surprised what you see and hear.

The next screen will also take you to the 12-part web documentary that was on starwars.com and five shorter documentaries. Do not forget the awesome "Dual of the Fates" music video is included as well.

There is also an exclusive DVD-ROM link to a special DVD site on starwars.com, which will become "live" on October 16th.

Next up is a gallery of like 75 photos (picked from 100,000 pics) and some pictures of posters and other print campaigns.

Another neat feature is the storyboard to animatic to film comparisons. This feature lets you see the storyboards and test samples and final footage all on the same screen or you can flip to each one via angles button.

Lastly, there is a small featurette on the Star Wars: StarFighter game from LucasArts.

Two more hidden easter eggs are also on the 2nd disc. Go to the "Deleted Scenes Only" screen and cycle through until you see "complete pod race grid sequence". You will see a small rectangle between two power units on the left – choose that and it will take you to a special making-of featurette. The cycle through until you see "extended pod race lap two" and choose that same rectangle – you will see yet another short featurette.

This DVD set just rocks and unless it was three discs, really could not be filled with anything more. This DVD is truly reference material and everyone needs to pick it up. Very Highly Recommended!
Please help support our site by buying this DVD title through this link. Thank you kindly.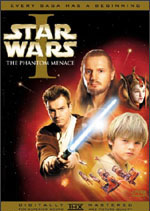 Purchase This DVD
Story / Content



Audio



Video



Extras