STAR WARS: EPISODE II – ATTACK OF THE CLONES
Reviewed October 9th, 2002 by John Randall
"You don't need guidance Anakin. I see you becoming the greatest of all Jedi..."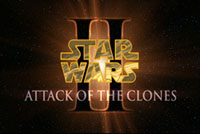 Here we are again – a little over a year later – reviewing the next Star Wars DVD. Just seems like a short time ago, we had NO Star Wars DVDs in sight. Even though we will still have to wait something like three more years to get the original three films on DVD - it sure is nice having at least two films of the series on DVD – and they sure are great looking and sounding DVDs at that!

The latest chapter of the series takes places about 10 years after Episode I. Anakin is growing up, Obi-Wan is getting older and sports a new beard, Padmé is no longer a queen, Yoda is even more of a badass, etc.

The basic plot without giving anything away: many years later, (now Senator) Padmé Amidala is being targeted for assassination by a mysterious new enemy – Count Dooku - the leader of a separatists movement. Upon reuniting, Anakin and Padmé start down the road of a forbidden romance. Meanwhile, Obi-Wan finds out that a secret clone army for the Republic is being produced on a far away planet. Lots of great new and old worlds to explore, new characters and some old characters doing things that will blow your mind! The Clone Wars are about to begin…

The main problem with this episode and the one before it is the over-use of computer graphics technology. The original films had great special effects for the time – but they just might have gone a little overboard on Episodes 1 and 2 when it comes to computers. It actually can be very distracting sometimes, but other times (like the final battle in Episode II) everything looks very impressive and indeed the technology, behind it all, is getting better.

This is by far a better Star Wars film than Episode I was, but it still did not feel like a true Star Wars film for some reason. Maybe the original trilogy will always have a special place in our hearts and no film made today could ever come close.

One more episode to go to finish out the saga – too bad it is still some three years away! Nevertheless, this DVD set is something that will help keep you occupied until then… so on to what you really want to read…


DISC 1:

Pop in Disc 1 and the first thing you will be treated to us a rather long "attention" message that is quite annoying. After that, the Star Wars logo pops up with brief shots of the film inside the letters (much like the Episode I DVD).

From there, one of three randomly chosen widescreen menu themes will appear - Coruscant, Geonosis and Kamino. You can choose which menu theme you want to see at the "attention" screen by pressing the following buttons on your remote: Coruscant (hit the audio button), Geonosis (hit 10+ then 2 and then 2 again), Kamino (just hit the 2 button). Kamino is by far the best one – check out the cool new fight sequence under Options when seeing the Kamino theme.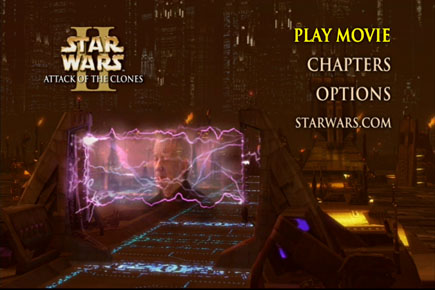 Each theme is completely different and it is worth checking them all out when you have the time. From the main menu, can start the film, get into the 50 chapter stops, go to options, and there is a weblink to StarWars.com.

On the options screen, you can choose which soundtrack you want to listen to (Dolby Digital 5.1 EX, French 2.0, and Spanish 2.0), you can turn the subtitles on or off, select the commentary track, or start up the THX Optimizer to test your audio/video system out.

The Dolby Digital 5.1 EX track is simply amazing and probably could not be any better on the DVD format. Everything in the film (voices, sound effects, the score, etc) sounds perfect. The LFE (.1) channel will give your subwoofer a workout like you would not believe. Everything from the great action sequences to the simple background noise of a fire – it is all there and you become easily engulfed by all the sound.

The video for the movie is presented in 2.35:1 anamorphic widescreen and is breathtaking. If you were unfortunate not to see Episode II in a DLP equipped digital theater – then you were missing out until now. If you have not heard, Episode II was not filmed on regular film like every other movie out there pretty much. Instead, they used digital video tape – and this DVD was created from a master – so there are absolutely no marks, scratches, fades, etc. that are commonly seen on a DVD that was created from film. Detail is dead on and the colors are so vibrant and rich that it actually is very surprising. Without a doubt, this is the best image that DVD has ever reproduced to date.

There are a few minor edits to alter the film from its theatrical release. Nothing major was changed (unlike Episode I for its DVD release) – just some tiny little words here and there. Keep your eyes glued and your ears open because we will not spoil it here.

The commentary track on the first disc is much like the one on the Episode I DVD. There is something like seven people who talk during the track (including George Lucas) – giving all kinds of insight into the making of the latest chapter in the saga. Might been a good idea to split some of them up into two or more commentary tracks, but alas this is still a good one to listen to.

Lastly, on disc one is a special easter egg in the tradition of the Episode I DVD: the great DVD credits and bloopers reel! You can either jump straight to it by stopping the DVD and choosing title 3, or do it the long way by going to the options menu, press the 10+ key, then 1, then 3, then 8.


DISC 2:

As expected, the second disc has a massive amount of extras. There are so many here that it is almost impossible to watch them all in one sitting. The one thing that will go through your mind is quantity versus quality. There is plenty of material here, but just how good is it?

After watching the infamous "attention" screen again, there is a very pretty opening and then it takes you to the Jedi Library. From there, you can choose options for: Theatrical Trailers and TV Spots, Documentaries, Deleted Scenes, Featurettes, Web Documentaries, Dex's Kitchen and Still Galleries, and StarWars.com.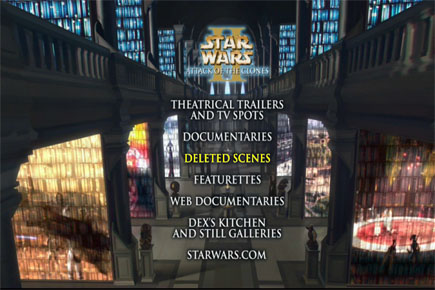 After choosing the Theatrical Trailers and TV Spots option, you are taken to Coursant's exterior and you are given a host of trailers to take a look at: the "Breathing" teaser, the "Mystery" teaser, the "Forbidden Love" teaser, and the "Clone War" theatrical trailer. All of them are anamorphic widescreen and in Dolby Digital 2.0. There you will also find the "Across the Stars" music video and an option to go to a second menu.

The second menu contains all twelve short TV spots, which are all presented in 4:3 full-frame and in Dolby Digital 2.0. The twelve spots are: "Obi-Wan", "Anakin", "Padmé", "Mace", "Yoda", "Artoo", "Jango", "Clones", "Jedi", "Anakin's Story", "Biggest Action Hero" (the best one of course), and "War".

The next option off the main menu is for Documentaries – which unfortunately there were only two (on that page anyway). "From Puppets To Pixels: Digital Characters In Episode II" runs about 52 minutes and is mainly about how even the live actors were sometimes replaced with digital characters, and also a lot about Yoda not being a puppet at all this time around. Next up is "State of the Art: The Previsualization Of Episode II" which runs about 22 minutes. This is mainly about how they made cheaper computer animations early on in production to decide how they wanted certain CGI shots to go. Also, look for some great animatic screw-ups during the credits of the last one.

The one section everyone wants the most – the Deleted Scenes – is next off the main menu. Unfortunately, the deleted / extended sequences only total about 12 minutes of material and none of it was overly good. There have been rumors for ages about certain sequences (especially the "Lost 20" subplot) that were shot but were either cut or never finished – and they are not on the discs either. Bummer.

The eight deleted scenes that are here are really just minor cuts. There are also optional introductions by various people for each scene.

"Padmé Addresses the Senate" is a quick scene with her basically pleading to the Senate to not allow an army of the Republic. It lasts just under two minutes. "Jedi Temple Analysis Room" was an interesting scene to the eye, but really had no meaning and running under a minute – which are the reasons it was cut. "Obi-Wan & Mace – Jedi Landing Platform" was basically the same hallway scene with Obi-Wan, Mace and Yoda – without Yoda and not in a hallway. Instead, it is them talking while in a hanger and runs just under two minutes. "Extended Arrival On Naboo" is just a two-minute extension of when Padmé and Anakin arrive on Naboo. Their conversation while walking was cut and only the middle was used in the final edit.

The next deleted scene is one of the most interesting and is called "Padmé's Parent's House" which runs just over 2 minutes and introduces Padmé's sister, mother, father and more. There is activity while they all eat and in the kitchen after dinner – mostly talking about how Anakin is not Padmé's boyfriend. "Padmé's Bedroom" takes place just after the scene above and shows her in her old bedroom with weird holographic picture frames on the wall. There is very little discussion here with the run time around a minute and a half.

The last two deleted scenes were cut from near the end of the film. "Dooku Interrogates Padmé" is a short clip running just a minute with Dooku trying to convince Padmé to have Naboo join their side. Lastly, "Anakin And Padmé On Trial" is just over 30 seconds and has to deal with them being sentenced to death before the great finale.

The next option off the main menu is the Featurettes section with three more documentaries: "Story" (9 minutes), "Love" (9 minutes) and "Action" (8 minutes). Each has to do with a different theme and how they relate to this new episode in the saga. There are interviews, behind-the-scenes footage, and footage from the film in each documentary.

The Web Documentaries section has a nice transport ship background and contains all twelve documentaries that were available on the official Star Wars website. These clips are behind-the-scenes documentaries presented in anamorphic widescreen and Dolby Digital 2.0. If you did not get a chance to download them earlier this year, this is a better way to see them all anyway.

"Here We Go Again: The Digital Cinema Revolution Begins" (6 minutes) – has mostly to do with shooting on digital video instead of film, "Wedgie 'Em Out: Designing The Jedi Starfighter" (4 minutes) – just like the title says, "We Didn't Go To The Desert To Get A Suntan: Location Shooting Around The World" (6 minutes) – even includes them talking about a shot they did for Episode 3, "Trying To Do My Thing: Hayden Christensen Is Anakin Skywalker" (4 minutes) – about how they picked Hayden to play the part and such, "A Twinkle Beyond Pluto: Extras Fill Out The Star Wars Galaxy" (5 minutes) – shows a different side to the need for good extras to fill up the screen in important shots.

"It's All Magic: Visual Effects Wizardry Starts On The Set" (5 minutes) – a look at some of the visual effects and some of the set up they had to do on the set, "Rev'n It To The Next Level: Sounds From A Galaxy Far, Far Away" (5 minutes) – just a brief look at what it took to get some of the sound effects for the film, "A Jigsaw Puzzle: Building Model Communities" (5 minutes) – mostly a reminder that they did indeed still use models and miniatures,

"Bucket Head: Introducing The Fett Family" (5 minutes) – is basically about Jango and Boba Fett, "Good To G.O.: The Jedi Knights In Action" (5 minutes) – a look at what it took for Mace and other Jedi to fight a good looking fight, "P-19: The Wardrobe Of Padmé Amidala" (just under 5 minutes) – a look at Natalie Portman's different costumes, "Reel-6: Creating The Action In Geonosis Arena" (6 minutes) – a look at what it took to bring the Arena to life.

Dex's Kitchen and Still Galleries is the next section to look through which has a theme of – you guessed it – the infamous diner. In that section, there are various pictures to look through: 85 exclusive production stills, 31 one-sheet posters from all over the world and 13 international outdoor campaign posters. You can click on the next page button there and you are taken to even more options.

The new options include a 25-minute documentary called "Films Are Not Released: They Escape – Creating A Universe Of Sounds For Episode II" which is a nice documentary that goes more in depth about all the divisions that are involved with all the aspects of the soundtrack including dialogue, the score, sound effects and more. "Episode II Visual Effects Breakdown Montage: A Before And After Montage Of ILM's Visual Effects Wizardry For Episode II" is a cool 3 minute feature that shows unfinished and finished examples of computer graphics work they did on Episode II.

"R2-D2: Beneath The Dome" is the six minute trailer for a R2-D2 fake documentary that is available on the official Star Wars website. Lastly, in this section there is another easter egg: highlight the main menu option, press left and it will highlight a yellow poster on the wall then press enter. You will be taken to a special section of 8 want-ads of a college campaign.

The final option on disc 2 is a weblink to StarWars.Com.

Overall, this is one exciting 2-disc set to have, and after all, it is Star Wars! The set boasts the most incredible video transfer to date and one hell of a rockin soundtrack as well. LucasFilm once again proved that they can indeed do it right – and create one of the best DVDs of the year (and all time)! We give this title our highest recommendation.
Please help support our site by buying this DVD title through this link. Thank you kindly.