YEAR WITHOUT A SANTA CLAUS, THE
Reviewed January 14th, 2001 by Brian White
CBS dusted off this 1974 holiday classic and brought it back to the world last year. The Year Without a Santa Claus is one of the later stop-frame, Ruskin/Bass Christmas specials, following in the footsteps of stopframe classics like Rudolph the Rednosed Reindeer. Now, Warner Brothers brings the special to DVD. Also included on the disc are two other cartoons: Rudolph's Shiny New Year and Nestor the Long-eared Christmas Donkey.

Perhaps the most interesting thing about The Year Without a Santa Claus is Mickey Rooney's great voicing of Santa Claus. Another great thing about this special is the fact that it is an hour long, when aired on television. Most of the holiday cartoons are a mere half-hour, making the value here obvious.

The story involves Santa deciding that the kids just aren't into Christmas anymore, so he just won't bother with his yearly run. Mrs. Claus, voiced by Shirley Booth, dispatches two elves, and a reindeer down south to find evidence that Christmas is still important to the kids. The two dim-witted elves go to Florida, and the reindeer takes ill. Wackiness ensues. Santa and Mrs. Claus launch on parallel adventures to sort out the whole thing. We are treated to a fantastic tune by the Heat Miser, who has hair like Macy Grey. Most of the cartoon takes place in Florida, so it doesn't, for the most part, look like a Christmas cartoon. Despite that, if you grew up with this cartoon, it's quite magical. Otherwise, it's a little cheezy; but hey, it's Christmas.

The image on this full-frame transfer is quite good. Despite the odd reminder of the film's age, the colors pop, and all the beautiful detail of the holiday worlds is represented quite well. The audio is acceptable Dolby Digital Mono.

The two other cartoons, though not as well known as the main title, are quite enjoyable as well. Nestor is quite a good looking cartoon, but it's way too tragic, and if I hear that country song again, I'm gonna…. Rudolph is 50 min, and Nestor is 23 (ish) minutes. Clearly, the bottom of the stop-frame, and holiday cartoon library has been scraped for DVD release (Hopefully, next year will see A Wish for Wings that Work released on DVD). Despite the range of familiarity of the specials, this is an excellent package. There's a lot of cartoon for the buck here, considering that usually one or two half-hour cartoons make up a disc. The episodes are tracked at the commercial breaks.
Please help support our site by buying this DVD title through this link. Thank you kindly.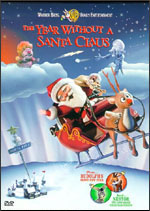 Purchase This DVD
Story / Content



Audio



Video



Extras