YOUNG GUNS (SPECIAL EDITION)
Reviewed May 22nd, 2003 by Dan Jones
"Alex, if you stay they're gonna kill you. And then I'm gonna have to to go around and kill all the guys who killed you. That's a lot of killing."

Young Guns is one of those movies that I remember thinking back favorably on, as it seemed I must have seen it at least ten times back in my younger years. However, I had not seen it in quite a while when this new Special Edition arrived, so I was more then happy to revisit it, even if it was for the N-teenth time.

Young Guns is essentially a take on the story of Billy the Kid and his gang of outlaws. The story is relatively simple; the gang, including the soon to be infamous William H. Bonney is hired for help on John Tunstall's (Terence Stamp) ranch. Tunstall takes them in a sort of fatherly way, educating and teaching them. Things quickly go south, as Tunstall is a competitor to a very rich rancher (Lawrence Murphy), who takes matters into his own hands, and has Tunstall killed. Little justice is had, as the sheriff is seated firmly in Murphy's pocket. However, the gang is eventually Deputized and given warrants to arrest those responsible for their friend's death. Of course, as history has told us, The Kid is not known for "arresting" people. Many deaths ensue.

Young Guns has no shortage of stars. Playing Billy the Kid, we have Emilio Estevez, who seems to fall into the roll quite nicely. Adding to the cast, we have Kiefer Sutherland as "Doc", Lou Diamond Phillips as Jose Chavez, and Charlie Sheen as Richard Brewer. The film also had a good style, fairly realistic cinematography, as well as a pretty entertaining storyline that never really drags for too long. Overall, Young Guns is a fun, borderline popcorn flick.

Transfer quality? Throw out your old release. Finally, Young Guns is delivered in 1.85:1 anamorphic widescreen, and the results are a huge improvement over the release of five years ago. Gone are compression problems and excessive edge enhancement. Blacks and darks are bold, and flesh tones are accurate. Detail is fairly good throughout. However, Young Guns is an older film, which the source shows. There is a good bit of grain present throughout, which does not do much to detract when considering this is supposed to be the grimy old west. Quite a good restoration.

We also get huge improvements in audio. Specifically we have 5.1 mixes in DTS and Dolby Digital. Both mixes will impress over the previous 2.0 track of the initial release. Surround use is active and engaging while dialogue is clear and crisp upfront. Dynamic range seems good considering the film's age. The winner between mixes would go to the DTS mix for having slightly better imaging across the front side-stage, as well as slightly tighter bass response. These mixes are not up to par with newer films, but they do sound quite good respectively.

Starting the extras, we have a sometime-amusing audio commentary with three of the film's actors, Loud Diamond Phillips, Dermot Mulroney and Casey Siemasko. Besides the joking that is typical in multiple people commentaries, a good portion of this commentary is the actors fleshing out their characters; some interesting back-story to be found here.

"The Real Billy the Kid" is a nice featurette, even if it does not relate directly to the film. This 30-minute documentary delves into the rise, and subsequent fall, of this infamous individual and is overall quite an interesting watch. This is presented in anamorphic widescreen.

Rounding out the extras, we have an optional fact track (subtitles throughout the film with some interesting facts) as well as a number of promo-trailers for other DVD Special Editions, as well as the theatrical trailer for Young Guns in non-anamorphic widescreen.

Young Guns is flat out an entertaining flick. The characters are well represented; the acting is quite good, and the film's settings realistic. This new DVD release is quite an upgrade over the previous bare-bones non-anamorphic release of yesteryear. While there is still not much in the way of extras, the new transfer and 5.1 mixes make this is a required upgrade for those that own the previous release.
Please help support our site by buying this DVD title through this link. Thank you kindly.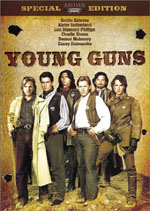 Purchase This DVD
Story / Content



Audio



Video



Extras