YOU'VE GOT MAIL
Reviewed January 11th, 2000 by Staff
Even in business – you can find time for love…

Tom Hanks and Meg Ryan team up again after their great job in Sleepless in Seattle (anyone remember them in Joe vs The Volcano?). Not only are they both wonderful actors, they have chemistry not always seen in movies.

Joe Fox III (Hanks) and rival bookstore owner Kathleen Kelly (Ryan) both spend their spare time on the Internet (well – AOL anyway). Meeting people over the Internet has become widely done over the years and this movie takes a modern approach of an old story (the movie "The Shop Around the Corner").

Joe is part of the Fox bookstore chains that builds a new big bookstore near Kathleen's old children's bookstore and basically puts her out of business. Not knowing at the same time the two are talking to each other via email and want to meet each other. At their first meeting, Joe discovers whom his Internet buddy is, but doesn't tell her because she basically hates him.

This is a great story and a good disc from Warner.

The video is presented in 1.85:1 widescreen and overall is good. The image is soft at some points but colors and black levels seem dead on.

The audio is presented in DD 5.1 and does well in this mostly dialogue movie. Music seems clear but this isn't a reference disc for audio capabilities. The surrounds are used but there is no explosive bass.

Warner included some very nice extras on the disc. There is a commentary, an isolated audio track, a great HBO documentary with director Nora Ephron, twelve trailers in total (two for this movie, two for the other movies that this movie was based on and eight other movies by Warner), production notes, subtitles, weblinks and more.

The movie is rated PG (some language) and runs 120 minutes. This movie is not only very recommended, so is the disc. Another great job from Warner.
Please help support our site by buying this DVD title through this link. Thank you kindly.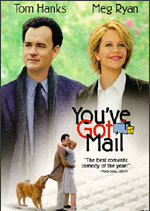 Purchase This DVD
Story / Content



Audio



Video



Extras