ZIGZAG
Reviewed December 29th, 2002 by David Nusair
Boy, talk about false advertising. The cover for Zigzag features the big heads of Wesley Snipes and John Leguizamo, and says something to the effect of "the writer and star of Blade and Blade 2 are back!" Now, something like that would indicate that Zigzag is going to be a cheesy action movie of some sort, with Snipes and Leguizamo playing hilariously mismatched partners. Sadly, that turned out not to be the case. The movie is instead about a troubled young kid, and Snipes' role is nothing more than a cameo.

Sam Jones III stars as the titular Zigzag, a teenager with some sort of mental affliction (most likely autism, though the film never tells us exactly) who's being beaten by his junkie father (Snipes) and essentially forced to work as a dishwater for a sleazy guy named Toad (Oliver Platt). Though the film is essentially plotless, there is a running storyline involving Zigzag's theft of money out of Toad's safe.

The film's undoubtedly been made with the best of intentions – writer/director David S. Goyer is clearly going for a '70s character study sort of vibe – but the underlying problem is that the Zigzag (the character, not the movie) just isn't that interesting. It doesn't help that we don't find out much about this kid, aside from the fact that he comes from an abusive home and takes solace in his friendship with Singer (played by Leguizamo). And until the whole robbery subplot takes over, there's not much to the film other than a variety of scenes featuring Zigzag meeting and chatting with different characters.

But Goyer has smartly peppered the film with an eclectic cast that, at the very least, keeps the movie entertaining. Sam Jones III, best known for his role on the TV show Smallville, is surprisingly effective as Zigzag – and though he could've easily turned the character into a variation on Dustin Hoffman's Rain Man, he doesn't. Leguizamo is equally good as Singer, Zigzag's only friend. And though his character arc borders on the melodramatic, Leguizamo nevertheless manages to turn in an affecting and surprisingly subtle performance that indicates he's got more talent than The Pest would've indicated. Finally, there's Natasha Lyonne as the proverbial hooker-with-a-heart-of-gold. Though this character could've (and should've) been a walking cliché, Lyonne infuses her with a sardonic wit and unexpected vulnerability – creating a character that's always interesting to watch.

It's easy enough to see why Zigzag never made it to theaters; the meandering pace does take a while to get used to (though I never entirely did). Still, the performances are good and Goyer's got a knack for creating plausible dialogue.

Audio: Zigzag is presented with a DD 5.1 soundtrack, and though there's not much need for it, it's fairly effective. The majority of the movie is devoted to dialogue, but the few instances of surround sound are presented nicely.

Video: This 1.85:1 anamorphic transfer is good, but not great. The image is awfully grainy, which (in fairness) could be attributed to the film stock. The disc is, however, free of artifacting.

Extras: The big extra here is a commentary track with writer/director Goyer. Though he does slow down considerably as the film progresses, he does have a number of interesting things to say. This being his directorial debut, he is understandably enthusiastic about the process of filmmaker, and does talk quite a bit about the rigors of filming a low budget movie. Also included are some filmographies, and trailers for this film, Boyz 'N the Hood, The Brothers, and Baby Boy.

Conclusion: Don't let the cover art for Zigzag fool you. While it's sort of entertaining, it's not exactly an action flick.
Please help support our site by buying this DVD title through this link. Thank you kindly.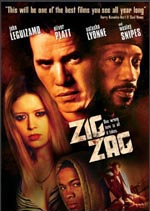 Purchase This DVD
Story / Content



Audio



Video



Extras