Welcome to a special little corner of The DVD Cyber Center devotes to the music group - Counting Crows - but it is DVD-related. Counting Crows is a true rock-n-roll band with fans all over the world.
This section of our website began when we hosted an online petition where fans asked the band to please start releasing Counting Crows DVDs.
The petition was then forwarded to the band and it was well received. However, that was back in September 2001.
As of now there are still no official Counting Crows concert DVDs being sold in stores. But there is some good news - there are a few DVDs out there with Counting Crows music and interviews on them!
We have broken this section down as follows:
The Counting Crows DVD Timeline (AND LATEST NEWS)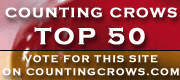 Also, if you have never heard any of the music by the band Counting Crows (however that is very unlikely) it is highly recommended. Check out some of their music sometime:
Lastly, if you want to know even more about CC, we highly suggest the following websites: